On Saturday, the 23rd of May, at 5:00 PM, during the Slovak Esperanto Meeting in Modra-Harmónia, the results of the logo design contest for the 101st World Esperanto Congress that will take place in 2016 Nitra were announced. 11 contestants participated in the contest and they submitted a total of 48 proposals.
The jury of the contest comprised:
Mark Fettes, chairman of UEA,
Jozef Dvonč, mayor of Nitra,
Eva Fitzelová, graphic designer and architect,
Peter Baláž, chairman of the organisation committee.
The winning logo chosen by the jury was the entry of the Russian Esperantist Elena Khusanova, who is currently working in Slovakia as a volunteer and graphic designer in the association Education@Internet in Partizánske, which works among other things on Esperanto-related projects. The main prize is free participation in next year's Esperanto congress in Nitra. We warmly congratulate the winner and we thank all the contestants.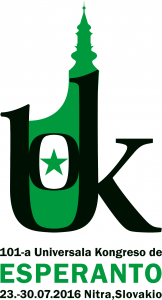 The jury chose the five best submissions whose authors will receive various prizes (books, T-shirts, CDs, DVDs about Esperanto and Nitra). These are the submissions of the following people: 1. Elena Khusanova, 2. Yusuf Al'Gattan, 3. Jaroslav Uhel, 4. Joseph VanHove, 5. Eva Brezániová.
The winning logo will be used to inform about the congress and will be published in all material about this event.
The contestants and the number of entries each of them submitted:
Jaroslav Uhel: 19,
Pavol Kaščák: 1,
Šarlota Trakovická: 7,
Stefan Kowal: 1,
Joseph VanHove: 2,
Mina Rohaninian: 1,
Wacław Rekowski: 1,
Elena Khusanova: 2,
Joanne Johns: 1,
Eva Brezániová: 5,
Yusuf Al'Gattan: 8.
You can see all entries here.
The organisation team
Peter Baláž – chairman